A safer tomorrow begins today: Restrict Category 1 drug use
A safer tomorrow begins today: Restrict Category 1 drug use
What are Category 1 drugs and why are they important?
Category 1 drugs are of the highest importance to humans. Products in this category are deemed a "last resort" in human medicine. As responsible stewards of public health, we must take collaborative action to safeguard these critical resources. The most effective way to protect these resources is by restricting their use in animal agriculture.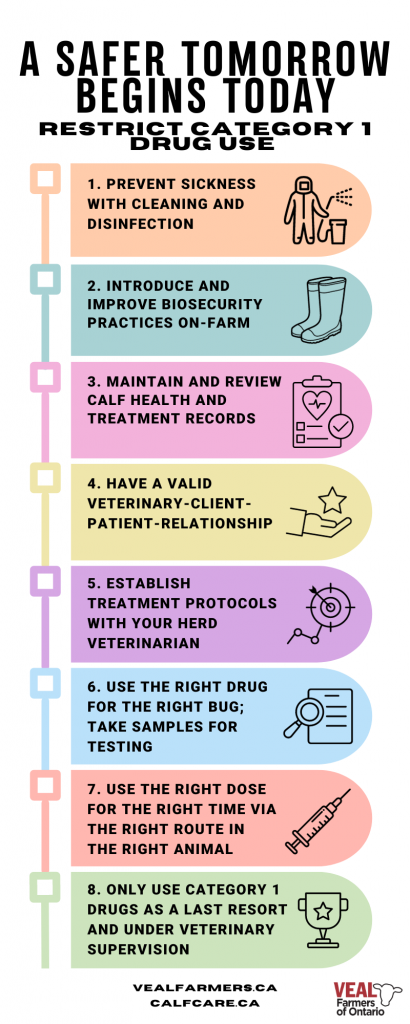 Antibiotics play an important role in providing a safe product for consumers, as well as cattle for their health and welfare. Antibiotics help to maintain healthy cattle, thereby ensuring a safe food supply for consumers and to prevent any potential food safety problems.
When treating cattle on your farm, are you aware which products are Category 1 drugs? Before treating any livestock there should be an established treatment protocol set with the herd veterinarian on which antibiotics should be used for each disease and in what order. The right drug for the bug! This will ensure consistency and proper meat withdrawal times.
Examples of Category 1 antibiotics that are currently labeled for cattle include the common trade names, Baytril® (enrofloxacin) and Excenel® (ceftiofur). As such, these antibiotics can only be used with a prescription from the herd veterinarian and when following strict label instructions (by dosage, route of administration and for the conditions listed on the label).
Ceftiofur, a broad-spectrum antibiotic known by its common trade names EXCENEL® and EXCENEL® RTU EZ sterile suspension, is an example of a product that has been used in veal production for years, however it is NOT approved for use in veal cattle in Canada.
The labels clearly state the following warnings:
Do not use in calves to be processed for veal
Do not use in veal calves. A withdrawal period has not been established in pre-ruminating calves
No meat withdrawal period or milk withholding time is required in cattle when treated according to the label. Do not use in calves to be processed for veal
The extra-label drug use of EXCENEL® is not recommended
Not only is understanding which drugs you are using important to food safety, but to human safety as well. We must all do our part to prevent and slow the development of antibiotic-resistant bacteria. We must think twice about which antibiotic we are selecting for a given problem. If resistance to these antibiotics occurs, there are no other options available to treat infections and that would be detrimental to the entire livestock sector.
Embracing these changes will encourage farmers to shift focus from treatment towards prevention of disease by using good management, nutrition, and vaccination programs. Remember an ounce of prevention is worth a pound of cure.
It can't be stressed enough to have established treatment protocols set together with the herd veterinarian. Have a plan in place for diagnostic testing if the protocol is not working to determine if a Category 1 drug (Excenel® or Baytril®) should be used. The Category 1 drugs should NEVER be used as a first line of defense, these are last resort drugs and when testing supports their use.