Back to basics calf care: What do I look for when buying male dairy calves?
Back to basics calf care: What do I look for when buying male dairy calves?
By Lilian Schaer, Agricultural Writer
Veal production success and profitability start with healthy calves. The transition from dairy to veal farm can be a stressful one for male dairy calves, and not all animals will perform well in veal production.
There are important criteria to consider when you're buying male dairy calves for your operation to ensure you're getting the best animals that will thrive as they grow.
Getting calves off to a healthy start is key, so ask your calf supplier(s) about the health status of their herd and protocols they follow in the calves' first few days of life, so you're informed about any potential health or disease challenges.
The muzzle to tail check
An examination of the calf you're buying, even if it's just a visual inspection, is a great indicator of whether or not you're buying a healthy calf. Overall, the calf should be bright, alert, and well-hydrated with a normal body temperature of 38.5C. Physically, here's what you should look for: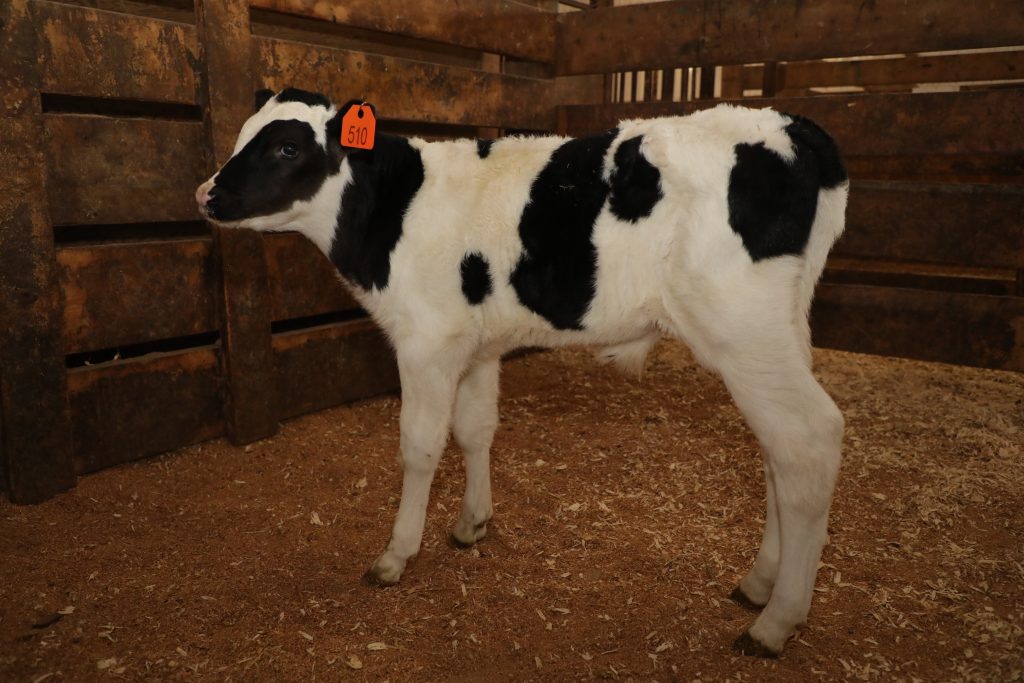 Ears that are up and alert
Smooth and shiny hair
Slow, even breathing
Clean and bright eyes
Flank that is full and not sunken in
Clean, dry muzzle
Square and blocky back end that is clean and dry
Dry, healed navel
Calves with unhealed navels are considered unfit for transport and cannot leave the farm unless it is to receive medical care recommended by a veterinarian. Similarly, calves with scours should not be transported to a new farm.
Make sure the calf is standing and walking solidly on all four legs. It should be at least nine days of age or older and weigh a minimum of 90 pounds. If you're concerned about whether a calf is ready for transport, consult Veal Farmers of Ontario's "Is this calf fit to ship" chart. It summarizes the Canadian Food Inspection Agency (CFIA) regulations for the humane transport of livestock that must be followed.
Condition and colostrum
Using the tips above, look at the overall body condition of the calf. How full its abdomen is serves as an indicator of when it was last fed. In their early days in particular, calves require plenty of nutrients as they start to build their immune systems.
The single most important feed a newborn calf can receive is colostrum right after birth. It's what the calf relies on to receive immunity from its mother and start developing its own healthy immune system. In fact, colostrum is the calf's main source of immunity, energy and nutrients in early life. So, ask if the calf was fed colostrum at birth. The first feeding should be as soon as possible, with the calf ideally receiving four litres of colostrum within six hours of birth.
The opportunity cost
If a calf you're looking at does not meet these criteria, consider the financial impact this animal could have on your operation. For example, it is estimated that an infected navel can result in losses of approximately $40 per calf.
Buying a good quality calf that is healthy will make a positive difference in both the quality of the finished animal you are marketing and the veal that consumers will purchase, as well as the overall profitability of your operation.
For more information, visit www.calfcare.ca.
This project was funded by the Canadian Agricultural Partnership, a five-year federal-provincial-territorial initiative.