Think like a veterinarian on your farm
Practical, take-home tips resonate with 2022 Healthy Calf Conference participants
Think like a veterinarian on your farm
Practical, take-home tips resonate with 2022 Healthy Calf Conference participants
"It's a basic concept that requires precise implementation," explained Dr. Kelly Barratt, partner at Heartland Vet Services, as she addressed an audience of over 300 at the hybrid 2022 Building the Foundation: Healthy Calf Conference (HCC). Her talk focused on new colostrum guidelines, practical techniques and equipment that can be used on-farm to manage, monitor and improve calf health and welfare. The tenth biennial event, hosted by Veal Farmers of Ontario (VFO), was held in Stratford this past November, marking 18 years of the HCC.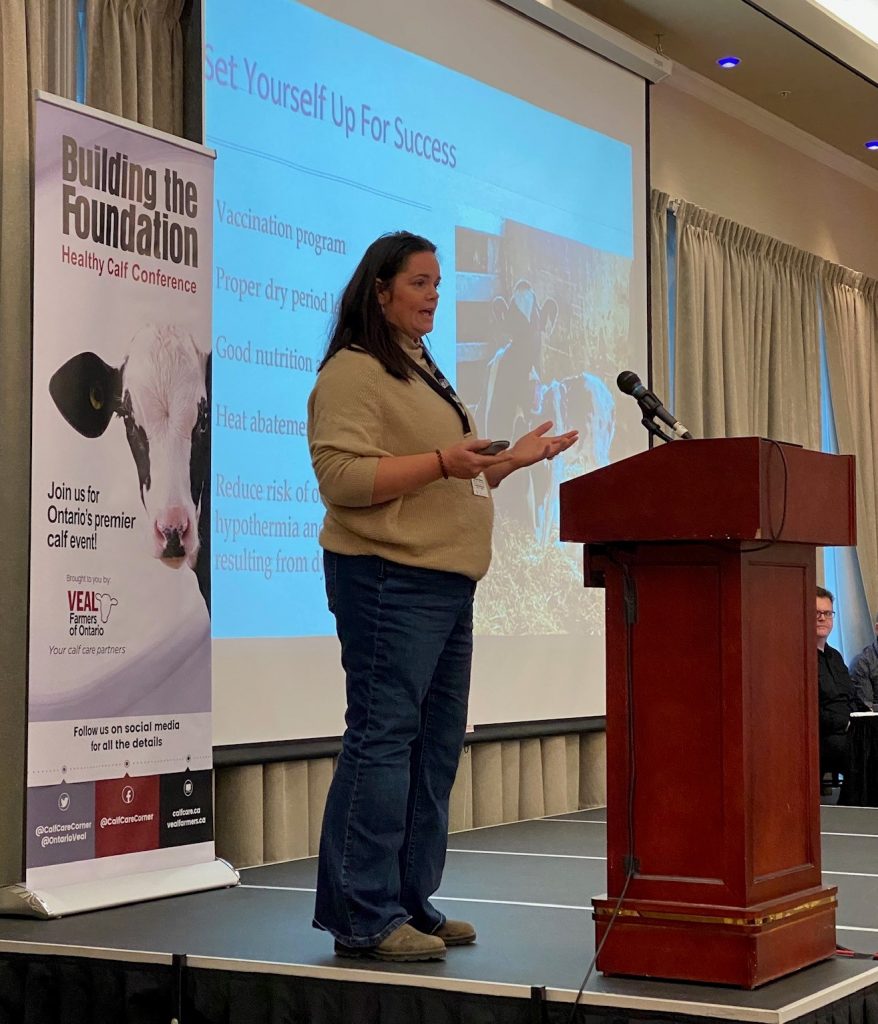 Reflecting on her own experience as a veterinarian and dairy producer, Barratt encouraged the audience to look at their colostrum harvest, storage and feeding procedures like a veterinarian. "You can do this on your own or with an advisor," she explained. "Review the protocols, have the conversations, walk me through the steps, show me the equipment," she furthered, while stressing the importance of reviewing your records and your memory.
Her talk concluded the day, framing recommendations from veterinarians and researchers earlier in the program in a practical way and allowing attendees to see how the latest research in calf management can be used on their own farm. Expert speakers, including Harold House M.Sc P.Eng from DairyLogix, and Drs. Michael Steele and Devon Wilson from the University of Guelph offered advice on all aspects of calf management, including health, housing, welfare, and nutrition.
Dr. Frédéric Beaulac from Triple-V Veterinary Services and Dr. Cynthia Miltenburg from the Ontario Ministry of Agriculture, Food and Rural Affairs were part of a special focus on Salmonella Dublin (S. Dublin) during the day-long event. Beaulac shared his over 10 years of experience managing S. Dublin on veal farms, including the kinds of clinical symptoms he expects calves with S. Dublin to present, how he works with producers to control an outbreak, and the steps that can be taken to help prevent further spread of the disease.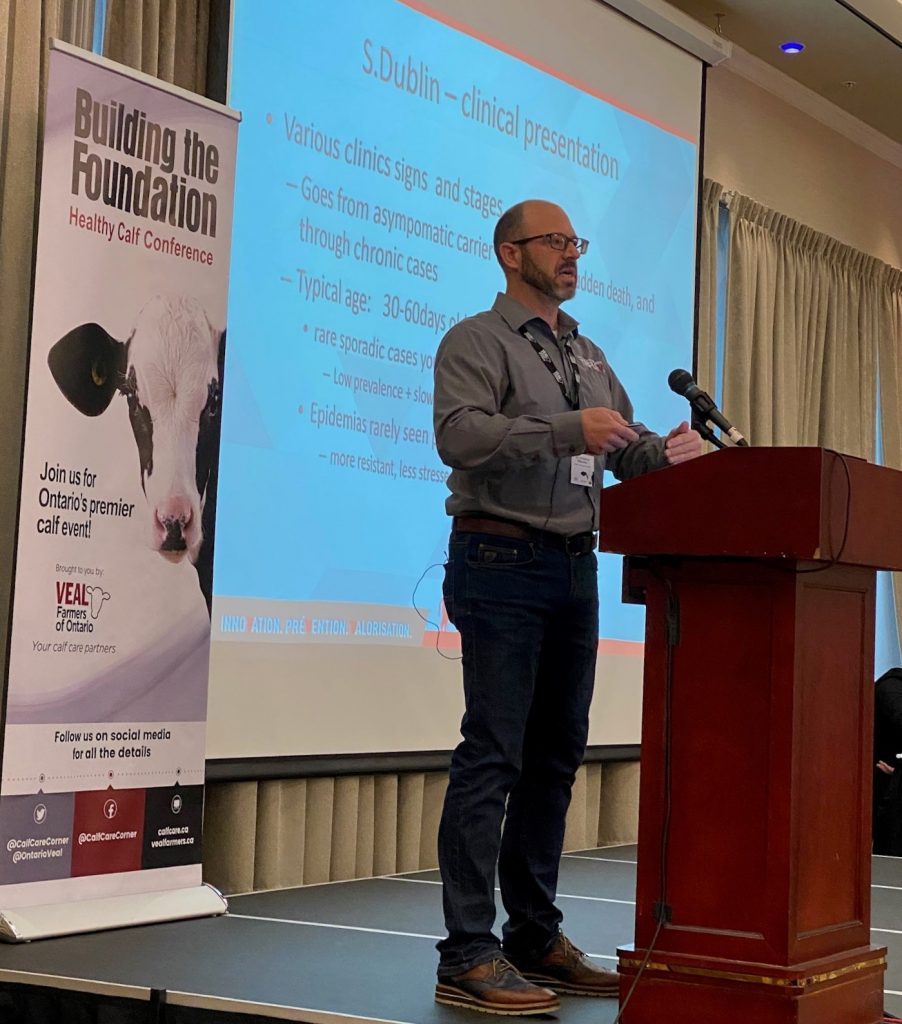 "Run or runt," explained Beaulac, summing up his thoughts on treatment. "Either you run to treat them, or they will be the runt." While offering recommendations for individual animals, he also emphasized how to manage cattle at the herd level during an outbreak, including treatments, supportive care, isolation and vaccination strategies, and how to identify when euthanasia is necessary.
His frank discussion of his on-farm experience was followed by Miltenburg offering an Ontario perspective on S. Dublin, advising producers on how they can reduce the risk of zoonotic disease. She shared details from recent bulk tank milk sampling projects and ongoing research to help producers struggling with S. Dublin, directing them to calfcare.ca/salmonella-dublin for more information.
Each attendee left with practical tips they could implement during that evening's chores, and in-person attendees also took home a free copy of VFO's Building the Foundations for Healthy Calves II manual.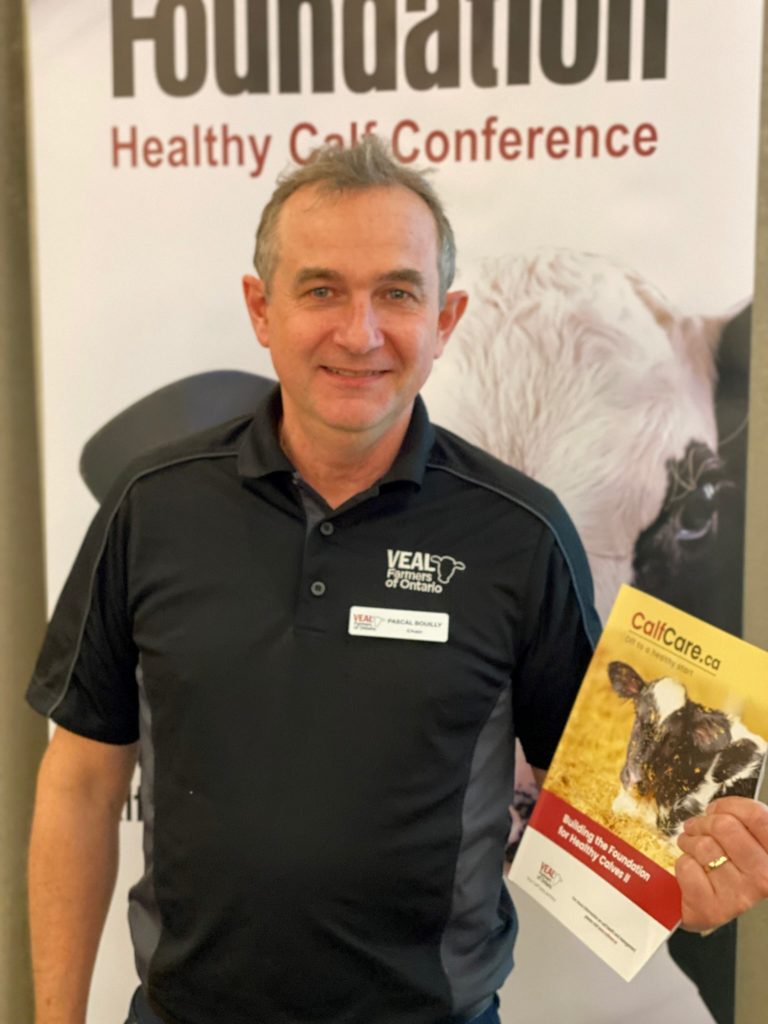 "We recognize the important role dairy producers play in the veal industry," explained Pascal Bouilly, VFO Chair. "It is always encouraging to see how many people are making their calves a priority by attending the HCC with their calf management team."
Making time for learning opportunities for not only yourself, but your staff, has many benefits including greater knowledge, skills and confidence at work and enhanced calf health and performance. There is a valuable return on investment for your farm business when considering the cost of attending events like the HCC and the benefits to animal health and performance seen on farms where employees have received training.
As your calf care partners, VFO takes pride in this important industry initiative that helps progressive calf managers find even more efficient ways to raise calves and increase profitability in Canada's dairy and veal industries. The next HCC will take place in 2024—see you there!